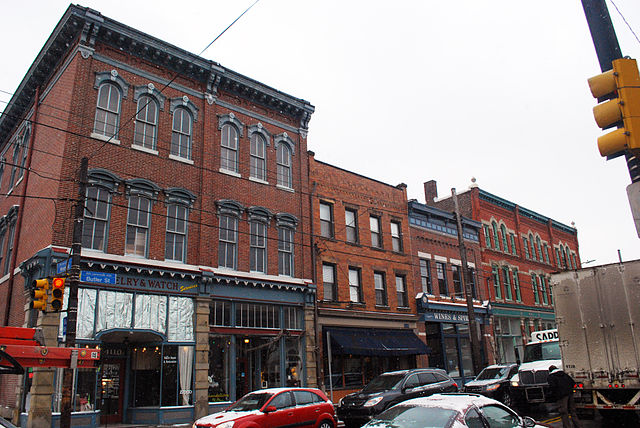 Almost everyone who has lived in Pittsburgh for years has either heard of or witnessed a portion of the incredible transformation that Lawrenceville has gone through. Originally established in 1814 as a strategic location for the Allegheny Arsenal due to its proximity to the Allegheny River, it eventually became an industrial center for iron works. Once the steel industry collapsed in the 1980s, it took well into the 2000s for the area to start to become redeveloped. A majority of Lawrenceville is comprised of row homes on streets perpendicular to Butler Street.
Today, Lawrenceville is broken into three portions: Lower Lawrenceville (34th Street through 39th Street), Central Lawrenceville (40th Street through 48th Street), & Upper Lawrenceville (49th Street to 57th Street).
Talk to Austin Kyle Rusert if you have questions as to which part of Lawrenceville would be a good fit based on your needs.

Butler Street (highlighted in red above) is one of the most popular streets that connects all portions of Lawrenceville. Butler Street features tons of entertainment from shops, bars, & restaurants, to breweries, bowling, and theater. Many homebuyers try to find a location walking distance to Butler Street. A good rule of thumb is, the closer to Butler Street, the higher the price. Central Lawrenceville is the most developed portion with lots of entertainment options, followed by Lower Lawrenceville. Upper Lawrenceville has also developed in recent years and continues to develop. Right now, Upper Lawrenceville tends to be the most affordable yet still walking distance to many popular venues.
Much of the industrial character has been brought into many of the row homes. Tons of row homes have been totally restored by investors and some have beautifully incorporated a modern industrial architectural style.